We are currently putting all our efforts and energy on 21 more rooms, a spa and a restaurant to be able to offer you better service. 
These will be available this summer. We are looking forward to seeing you there !
Traditional decorations, mouldings, 19th century style decorations and influences from the Belle Époque, the Hôtel Marotte is a beautiful 5 star boutique hotel with classical decoration.
In these elegant and warm surroundings you will find a Breakfast Room, Lounge Bar and Tea Room, open every day, to Hôtel and outside clients.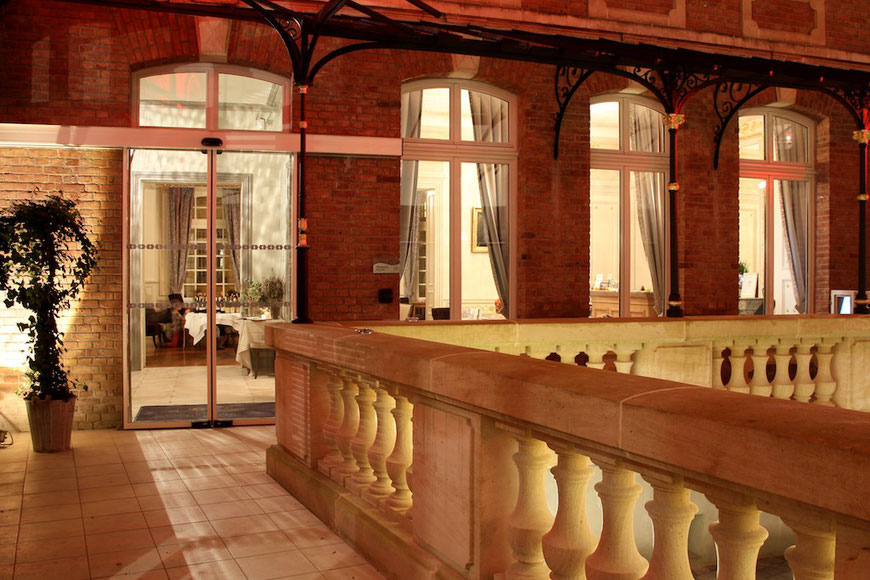 The Hôtel Marotte is a 5 star boutique hotel, with 12 rooms distributed in two very different buildings.
The Old House : with its classical interior, a traditional decor with mouldings and influences from the Belle Époque are to be seen everywhere. It is warm and elegant. The same environment can be found in the Bar Lounge and the Tea Room, as well as in the 8 bedrooms to be found in this part of the hotel.
The Cube : This modern white cubic extension appears to be levitating. It was built following "BBC" construction standards (French equivalent of Low-Energy House) and has a green roof. This building houses 3 vast suites. The focus here is on relaxation with private spas and/or saunas. A Penthouse with a private terrace sits at the top of the Cube.
All floors, except the 3rd floor where the Chalet and The Superior Room can be found, are accessible by lift.
Pets are allowed in the hotel only under approval by the direction. An extra cost will be charged.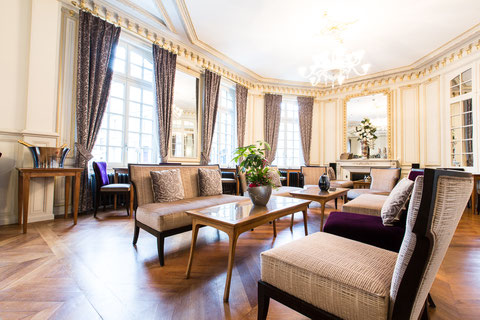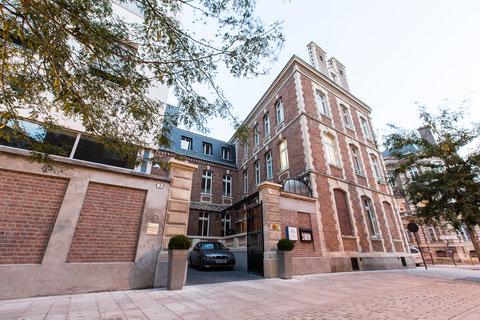 ---
---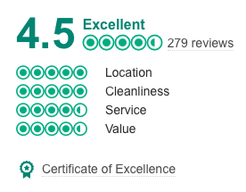 "Our stay was faultless from start to finish. The room was spacious and the beds very comfortable, the breakfast was superb. The hosts of the hotel made the stay fantastic. Their local knowledge (and pride in their town) was outstanding. We cannot thank both the hosts enough for their hospitality, assistance with parking the car, and meeting any and various needs that we had, promptly and with a smile."  Susan
"This is a wonderful hotel. Warm, welcoming and helpful staff led by Estelle, who is super nice. Ask them any question about Amiens and you'll get good advice. 
Located just 500m from the cathedral and walking distance to many other attractions in Amiens. 
Clean, tidy, spacious, comfortable bed, fantastic shower, internet speed fastest I've seen (250 Mb download, 75 upload). 
Parking (valet) cost €15 per night, which was reasonable - our car was already waiting for us in the courtyard when we came down. 
This was our second time at the Marotte and we'd stay nowhere else in Amiens." Helena
"We have just returned home after three nights in this delightful hotel, (within walking distance of the cathedral),very ably run by husband and wife team Estelle and Olivier Walti and their equally charming staff. We spent two full days touring battlefields, trenches as well as more personal visits to memorials and cemeteries and this was such a comfortable base. Our room was spacious, good wifi and bright bathroom. Parking is also available which was a real plus. Lovely breakfasts and plenty of nearby restaurants- we will return !" Nicholas
"We stayed here at the last minute when our car broke down in Amiens. The directrice, Estelle Walti was so charming and helpful - nothing was too much trouble. The hotel itself is perfectly located - just a few minutes' walk from the centre."  Christopher
---
HOMEPAGE  |  ACCOMODATION  |  FOOD & DRINKS  |  CONTACT  |  AMIENS LIFESTYLE  
© Hôtel Marotte | Boutique Hotel | Amiens < Somme < Picardy | Legal Mentions